View the 2023 Team's Summer Ride Highlight Video
Overview
Texas 4000 for Cancer is an intensive, experiential leadership development program where UT students raise funds for cancer research and support services by riding over 4,000 miles from Austin to Anchorage. Our students develop skills in leadership, teamwork, project planning, philanthropic giving, community engagement, and physical training. As both a nonprofit and student organization, Texas 4000 for Cancer is a one-of-a-kind learning and leadership laboratory that culminates in the world's longest charity bike in the world.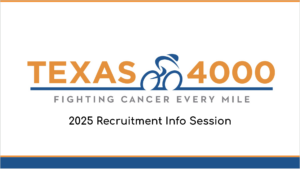 What To Expect as a Texas 4000 Rider
Physical Requirements
Although no endurance sports experience is required, applicants should be healthy and active and can expect to spend plenty of time in a rigorous training program leading up to the summer ride. Riders will log a range of 1500-2000 training miles before the summer ride, part of which is achieved through weekday and Saturday morning training rides.
Fundraising Requirement
We are committed to funding cancer research and support services. Each accepted applicant is expected to raise a minimum of $4,500 (approximately a dollar per mile) before departure on the summer ride.
Service
All riders will be required to volunteer to advance our mission during their training for the summer ride and throughout our 18-month program, spending time in service to the organization and our partners who share our mission.
Planning for the Summer Ride
Accepted applicants will be expected to actively participate in the planning, preparation, and execution of the summer ride, beginning at the time of selection, which presents a significant time commitment in the spring semester of the ride year.
Learning and Growth
During our 18-month leadership program, our riders learn experientially as they gain leadership and decision-making skills, nonprofit experience, fundraising training, and essential planning skills as riders work collaboratively to organize all aspects of their ride.
Rider Eligibility
Be enrolled at The University of Texas at Austin at the time of application submission (Master's and Ph.D. students are allowed to apply).

Be enrolled at The University of Texas at Austin through at least the fall of 2024 (can graduate in Dec. 2024).

Be available for weekly team meetings on Monday nights at 7 p.m. during the school year (no more than two unexcused absences allowed per semester).

Be available for weekly Saturday morning workouts during the fall 2024 and spring 2023 semesters.

Reside in Austin, Texas, through spring 2025 (not including breaks; only study abroad allowed in spring 2024).

Have health insurance from fall 2024 through August 2025 or have plans to obtain it.
Application Timeline
Application: Opens September 2nd at midnight, Closes October 2nd at 11:59 p.m.
Interviews: October – November 2023 – Interviews & Additional Selection Steps
Selection: November 2023 – Selection Decisions Made & Announced
To stay up-to-date on recruitment events and application open dates, email apply.texas4000@gmail.com to be added to our email list.
What Riders Say They Learned from Texas 4000