ATLAS Ride to Raise Funds for Cancer Fight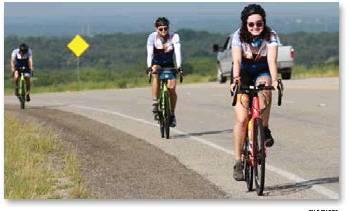 FILE PHOTO Cylists pedal up a hill on FM 580 east of Lampasas during last year's Texas 4000 ATLAS Ride.
By David Lowe
Dispatch Record
Lampasas will host the Texas 4000 ATLAS Ride — a kickoff event for a charity cycling trek from Austin to Anchorage, Alaska — on June 1.
The celebratory ATLAS Ride gives friends, relatives and community members an opportunity to pedal alongside this year's Texas 4000 Team as the group of 84 University of Texas students begins its 70-day journey to Anchorage.
The Texas 4000 — which describes itself as the longest annual charity bike ride in the world — contributes to cancer research and cancer support services. Since the ride began in 2004, the Texas 4000 has given more than $9.7 million to fight cancer, said Cassidy Hurwitz, the organization's events coordinator. Recipients of Texas 4000 grants include MD Anderson Cancer Center, Dell Medical School's Texas Health Catalyst Program, The University of Texas at Austin Department of Biomedical Engineering, UT Southwestern Medical Center, and the American Cancer Society's Hope Lodge in Houston.
ATLAS Ride activities will allow Lampasas-area residents to support the cause — whether they pay to cycle or simply purchase a pass for the post-ride food and festivities. To register, visit https://www.texas4000.org/event/atlas-ride/.
ATLAS cyclists may choose from a 25- or 50-mile route. The rides will begin at 8:30 a.m. at the Hanna Springs Sculpture Garden in Campbell Park, 501 E. North Ave. If the heat index is high, rides will begin at 8:15 a.m., said ATLAS Committee member and Lampasas resident Joe Corcoran. Participants will receive 72 hours' advance notice, Corcoran said, if event organizers decide to use the earlier start time.
The out-and-back 25-mile route will take North Avenue and Western Avenue/Campbell Street to FM 580 East and then will continue onto FM 2313. From there, riders will turn into the River Place subdivision northwest of Kempner. Cyclists will loop through the subdivision and then head back to Lampasas.
The 50-mile route uses the same city streets as the 25-mile route, and then continues along FM 580 East, FM 2313 and County Road 3220. Next, the route goes north on CR 3270 and CR 3640 to Izoro. There, riders will head back to Lampasas on FM 1690, FM 2527, CR 3430 and FM 580 East.
The registration fee for either route distance is $70, which includes one food and beverage pass for the postride barbecue.
For $100, cyclists may purchase a VIP registration. That includes two food passes instead of one, as well as a bike valet at the end of the ride, a special start corral, and a VIP beverage and food line.
Non-riders who want to partake of the festival meal may purchase a food pass for $20.
Another way to donate is by contributing to the Mile of Silence at the end of the cycling route. Signs will line that section, and those who donate $50 to the Mile of Silence will be able to select text and a photo to put on a sign in honor of a loved one affected by cancer, Hurwitz said.
The Mile of Silence tradition is a way to highlight the Texas 4000's mission of fighting cancer, Hurwitz said.
ATLAS Committee member Dianna Hodges, who coordinates the Vision Lampasas organization's involvement in the annual event, said the ride has special significance for many people.
"We're happy to support this wonderful cause," Hodges said, "because I think all of us have been touched by cancer in one way or another."
About 800 people participated in last year's ATLAS Ride event, Hodges said.
After the June 1 festivities in Lampasas, Texas 4000 team members will branch off into three different routes, each of which stretches more than 4,000 miles.
The Sierra route goes through the southwestern part of the United States, up the Pacific Coast and into western Canada before reaching Alaska. Another route goes through the Rocky Mountains and western Canada to reach Alaska. The Ozarks route, which the Texas 4000 added in 2013, goes through the Midwest and central Canada before heading northwest.