ATLAS Ride 2021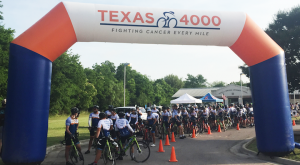 Cancer hasn't stopped and neither has Texas 4000!
We are proud to announce the 2021 ATLAS Ride on Saturday, June 5, 2021, the first day of the 2021 Team's Summer Ride!
Join the 2021 team for a reimagined ATLAS Ride by registering to ride with the team on Day 1 of their 70-day summer ride across four routes in the lower 48 states, engaging communities in the fight against cancer. Raise funds right along with the 2021 team to help fight cancer by starting your ATLAS Support Team page when you register!
This year's ATLAS Ride will take place, starting and ending, at Stoneledge Winery just outside Lampasas, Texas. Participants will be able to ride through the lovely hill country over a 25-mile route, celebrate the 2021 team's first day of the summer ride, enjoy a delicious lunch, and sample some of Stoneledge Winery's finest wine.
ATLAS Ride will follow COVID-19 safety protocols so that everyone can enjoy a safe ride and event.
---
ATLAS Ride Registration (Opens Friday, April 9th)
Please contact shannon@texas4000.org with any questions.
---
ATLAS Ride FAQ
---
Event Photos
---
2021 ATLAS Committee
Eardie Curry
Joe Corcoran
Josh Diaz De Leon
Dianna Hodges
Jeff Mock
Mike Thompson
Catherine Vincent