2021 Team Cheer Sign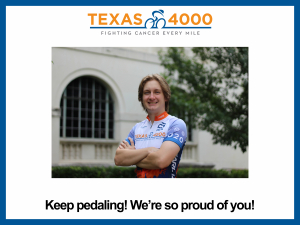 You've supported the 2021 Team in so many ways during the nearly TWO years of their college experience that they have dedicated to Texas 4000. Now it's time to CELEBRATE them as they embark on the Summer Ride! As a surprise to the team (don't tell them!), we are hoping to have a Cheer Sign for each rider to place along the last mile of the Day 1 Route to Lampasas. If you would like to support a 2021 rider, please fill out the form below and direct any questions to shannon@texas4000.org. Thank you for all you've done for this resilient group of young cancer fighters!
You may send in a photo of your own, but if not, we will use their official T4K headshot. If sending in a different photo, please indicate which rider is in the photo – thanks!