Why Michael Rides
Michael Tatalovich will be riding as a member of the 2016 Texas 4000 Team. He is currently a sophomore architecture major at UT where he works as a photographer for Spark Magazine, an on campus fashion periodical. He also does creative work for Smear Magazine, a local indie zine. He enjoys being outdoors, concerts, and his latest endeavor, cycling…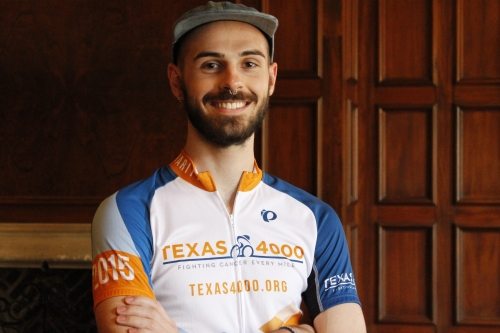 In his own words, here is why Michael rides:
"I ride for a few different reasons. Firstly, I ride for my mom, Linda Tatalovich. My mom is the most compassionate, selfless person I have ever known. She is the warmest smile and the tightest hug. I remember if I was ever cold in the morning waking up for school, she would throw towels in the dryer and come wake me up by draping them over me. She has given so much of herself to her three kids, and her tireless effort and love is unfathomable. She was diagnosed with breast cancer when I was just a toddler. Thankfully, she never had to undergo chemotherapy, but did have to have a mastectomy performed. She has been cancer free ever since.

I also ride for my paternal grandma, Baba, as we call her, who was also afflicted by breast cancer many years ago. She too received a mastectomy but no chemo or radiation.

The main reason I ride, though, is for myself. Two years ago on May 1st, 2013, I was diagnosed with stage 2a Ewing's Sarcoma. This rare, pediatric bone cancer was discovered in my left femur, where I had been having pain for a few months prior. Only 10 days after that fateful biopsy, I was receiving chemotherapy every 2 weeks, most weeks every day from 8am to 5pm. The active, confident, and independent version of myself had been washed away in a torrent of chemicals and toxins.

I was relegated to a wheelchair to move as my femur had been crushed under the weight of the tumor. After the first 11 weeks of chemo, in which time I lost almost 50 pounds and much of my confidence, dignity and autonomy, I underwent a "radical resection, left proximal femur hemiarthroplasty," or a partial hip replacement surgery. My left femur was replaced with titanium and bone glue, leaving a 13 inch scar running the length of the side of my thigh. After this surgery, I underwent another 26 weeks of chemo, finishing on March 14, 2014.

The whole experience was in so many ways enlightening and liberating but in many more ways, terrifying, debilitating and life-changing. For a long time I used a cane to walk, and every time I fly home to see my family, I have to endure the embarrassment of being patted down by TSA workers because of my metal bone. But during it all, I retained a positive attitude (some loved ones might even say stubborn) about making it out on the other side which is exactly what I did. I have been cancer free since I stopped chemotherapy over a year ago. I ride for myself because I know exactly what it's like to go through a cancer diagnosis and I am now in a position to do something about it and help others.

I am so so so excited, honored, and proud to ride for Texas 4000 and all the people affected by cancer."
Why Cycling?
In August of 2013, Michael underwent a partial hip replacement due to weakening of the bone caused by cancer that was found in his left femur. Before his surgery, Michael had been an active volleyball player, so to face the idea of a more sedentary lifestyle was not something he was comfortable with. Following the hip replacement, Michael was only able to partake in nonimpact exercise. His choices became limited to swimming and biking. Michael admitted to not being the greatest swimmer, leaving biking the perfect solution. He said that Texas 4000 became "the perfect intersection of an active lifestyle and that personal connection to cancer, as I am a survivor."
When asked which Texas 4000 pillar (hope, knowledge, or charity) he most identified with, Michael says…
"For me, knowledge was a big thing for me when I was going through treatment. It became a coping mechanism to stay very clinical… Knowing each of those records of medications, procedures, and etc. It's a goal of mine to spread knowledge of what the medical and human condition of having cancer is like. And in a way, I think this could spread the message of hope as well."
Part of Texas 4000 is to create leaders within the cancer-fighting community. To this, Michael says that no matter what role you have within the organization, "you're forced to assume some sort of leadership responsibility." He notes that due to the frequency of small occurrences that require guidance throughout training, team members take on those "self-appointed leadership roles."
Michael says that he chose to ride for Texas 4000 not only because he is a survivor himself, but because his mother and his grandmother are also breast cancer survivors. He explained how his own experience with cancer "fundamentally changed everything that had previously been familiar to him." He hopes that the ride will "make clear the discrepancy between pre and post cancer life." He plans for the ride to be a time of self-reflection and a process of discovery of his own desires for the future.
Best of luck, Michael!!!
– Written by Jessica Weems, Texas 4000 Intern