Why Logan Rides and Why Logan Wants YOU to Ride ATLAS
We asked Logan DeBord, a 2015 Texas 4000 Rider, a few questions about his involvement in Texas 4000 and the upcoming ATLAS Ride. Here's what he had to say: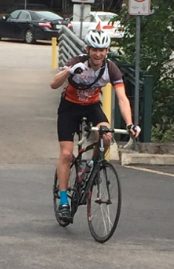 Why did you initially apply for Texas 4000?
I saw Texas 4000 as an opportunity to better myself as a leader and person. In the year before I applied, I realized that I'd been having a typical college experience in that it was mostly for me. Joining a team with a seemingly impossible goal—a cross-country cycling journey to Alaska—was a way to focus my time and energy into a mission that was much bigger than myself. I've known a lot of incredible people who've been affected in terrible ways by cancer, so that also keeps me motivated to be the best teammate I can be.
What have you learned about yourself since applying?
Being in Texas 4000 has opened my eyes to a lot of things that ordinary people around me have to offer. The program puts a lot of emphasis on stories, so I try to seek out and listen to other people's experiences when I can. Honestly, I've learned that maybe I'm not that important in the grand scheme of things. Working with such a diverse and motivated group of other students has taught me to put my ego on the backburner and find the areas in the organization where I can contribute my best work. It's given me a lot of confidence from hands-on skills—like changing a teammate's tire—to communications abilities when establishing expectations and action plans for my committee.
How has Texas 4000 impacted your goals for the future?
I've known that I was going to be a doctor since high school, but Texas 4000 has solidified this decision in many ways. Our team visited the MD Anderson Cancer Center in October, and it was both uplifting and heartbreaking to watch the Trick or Treat parade through the facility. No child should have to face cancer. I'm looking forward to a career in medicine because it's an opportunity to affect good on a highly personal level. I was recently accepted to Baylor College of Medicine and will be starting fresh in Houston after the summer ride. Texas 4000 has definitely inspired me to either begin the Global Health or Research Track at Baylor in the fall—I could see myself volunteering with Mercy Ships or contributing to cancer research in the future. It's also made me realize that philanthropy is a lifelong commitment, and I look forward to seeing where I can give back to in the future.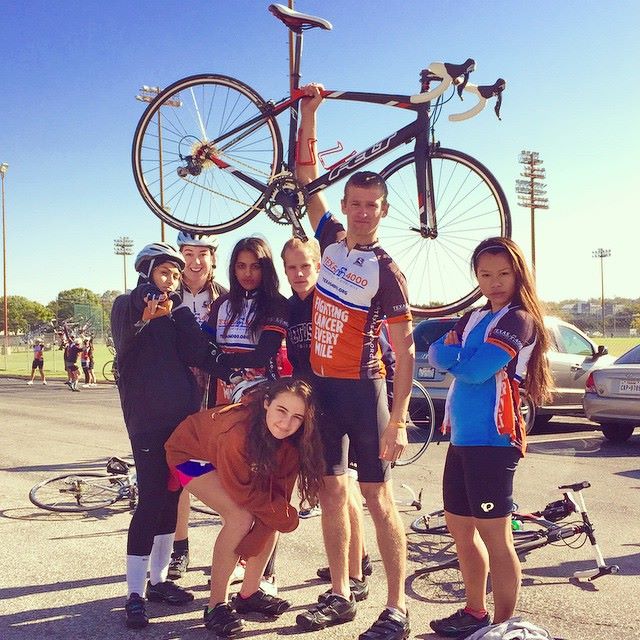 Who do you ride for?
I ride mainly for Kory Kubecka, who was a close friend of mine in middle school. Kory fought, and ultimately lost, his battle with leukemia—he would be turning 23 this April. It was a terrible outcome for a person who was so genuine and nice to everyone he met. Kory was a tennis player, an outdoorsman, a son, brother, and Christian. He had such a big heart. I know that he'd be somewhere helping others right now if he were still here. Kory is always the one on my mind whenever I see a big hill on the horizon. I ride so that someday other kids in his situation might have a chance to receive the best possible treatment in the future.
How has cancer impacted your family?
My mom is a breast cancer survivor of 8 years. Her tumor was diagnosed early, so she opted to have a double mastectomy and forego the risk of recurrence. The surgeon, Alison Laidley at Texas Oncology, did great work and my mom had a relatively easy recovery. She's a great woman and we were lucky that she didn't have to go through much of the physical hardship that many cancer patients do. I think that the biggest burden was financial, since my mom had just begun working as an elementary school teacher at the time.


My grandmother is actually one of the longest-living survivors having received a bone marrow transplant in Texas (this was in the late 1980s, a few years before I was born). She once told me that the reason she survived was so that her three grandkids could grow up and see what kind of person she was. So when I was accepted as a rider, I wrote to her saying that now it was time for her to see what kind of person I am. Granna was also pretty fortunate to beat breast cancer twice within the last several years, but it was a difficult road through treatment and recovery. That's the most unfortunate thing about cancer—it robs the people you love of the best parts about them, whether it's their energy, their humor, or their positivity.
What does your family think of your role in Texas 4000 and the organization's mission?
They've been so supportive! I don't think anyone was too surprised—biking to Alaska seems right up my alley, since I love the outdoors. My family was really helpful initially in donating to my cause (particularly my grandma and sister). I think they all enjoy hearing updates on my training, especially some of the stranger wildlife that we've seen along rides. My grandpa keeps asking if my butt hurts (it does sometimes, but I'll be investing in a new saddle soon). I think everyone realizes for the most part that I applied to Texas 4000 to honor people who've opened a lot of doors for me, but the reason I continue doing it is to see what new things I can bring to the table. This last part has been a fun venture for me as the Community Engagement Chair for the team.
What will your family's participation in ATLAS be?
My mom surprised me last month by asking if she could participate in the ATLAS ride! We're currently looking for a hybrid bike on which she'll be able to train. However, she's always been pretty fit, so 25 miles should be a piece of cake. Other than that, I'll expect to see some of my immediate family at the post-ride party at the Legato Winery. It'll be a great way to celebrate graduation, the end of my team's preparation year, and also my month-old niece's entry to the world.
What role does ATLAS play for you in the summer ride and your Texas 4000 experience?
ATLAS, for me, is the bookend on my college experience and the beginning of something new. I've enjoyed living in Austin, but this symbolic exit from the city will be perfectly timed. ATLAS will also be an opportunity to spend time with and thank some of the many mentors that have guided my team and me along the way.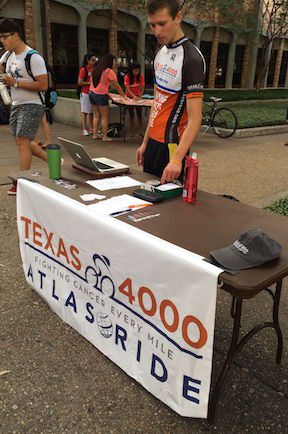 What would you say to a cyclist considering riding in ATLAS?
There are a lot of cycling and race-related volunteering events that we offer our time to in the preparation year before the ride, but ATLAS is the only such event that centers around us. The registration fee supports our cause and just talking to our riders will give you a chance to be a mentor to us. At the end of the day, some of us are still inexperienced cyclists who are eager to learn from your experience.
What would you say to a "non-cyclist" about ATLAS?
Don't be afraid! There are lots of resources that you can use to navigate the world of biking. Sheldon Brown's website has been called the "bike encyclopedia" by some of my teammates. Spin classes are a great tool to get your legs and cardio in shape even if you can't hit the road every week. If you're near the UT campus, Orange Bike Project allows new cyclists to learn about bike mechanics. Craigslist may even be able to provide the right bike for you if you decide that ATLAS is calling your name.
"The ATLAS ride may be a challenge in the near future, but it's nothing compared to having beaten cancer already!" –Pam DeBord, my mom