2014 Tribute Gala: Oh What a Night!
Tribute Guests, Sponsors and Contributors…
THANK YOU!!!!
You helped make the 2014 Texas 4000 Tribute Gala a record-breaking success. We had 550 guests, 79 rider honorees and took in more than $180,000 in support of our mission! Please enjoy pictures and videos from an inspirational celebration of the 2014 Texas 4000 Team.
Check out a slideshow of pictures from the event: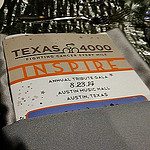 Everyone's Favorite Part of the Night…
the 2014 Tribute Videos:
The Summer Ride Videos We Didn't Show You at Tribute:
A Special Thank You:
If you did not receive a receipt for your donations and/or purchases at the end of the evening, please request a receipt for tax purposes by emailing info@texas4000.org.
SAVE THE DATE for next year's
Texas 4000 Tribute Gala:
Saturday, August 22nd, 2015
Thank you for supporting our mission to cultivate student leaders and engage communities in the fight against cancer!