Why Tina Beigelbeck Runs
Tina Beigelbeck, 2013 Ozarks Ride Director, lost her father when she was 16 years old. When she came to UT and learned about Texas 4000, she knew this was something she had to do. "In many ways, I was still trying to put my life back together. Dad would've jumped at the opportunity to ride from Texas to Alaska. I knew it would be the perfect thing to both honor his memory and heal from his loss."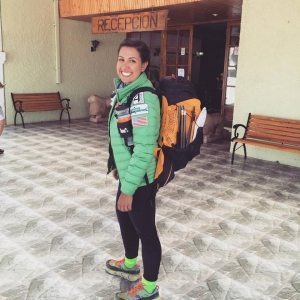 Today, Tina is an International Program Manager for Indeed and an ultramarathon runner. After volunteering for a 4 Deserts race in 2014, she knew she wanted to complete one herself. Tina has now completed 2 ultramarathons this year, one in Sri Lanka & another in Chile, and is preparing to run another ultramarathon race next year. For those unfamiliar with what exactly an ultramarathon entails, Tina ran nearly six marathons in six days while carrying a 25lb pack with supplies for the week, including food, clothes, first aid, sleeping gear, and water!
Tina continues to give back to Texas 4000 in many ways, but being part of our Austin Marathon team allows her the unique opportunity to combine 2 of her greatest passions to continue to contribute to the fight against cancer. Tina has never stopped challenging herself since her Ride Director days and we are so proud to be part of her next challenge, training for 26.2 miles with our Texas 4000 Austin Marathon team.
You don't have to be ultramarathoner to join our Austin Marathon, Half Marathon or 5K team! Visit our team page today and sign-up for whatever distance you feel will be the best challenge for you.