Texas 4000 Cancer Summer Bike Ride makes pass through Lake Charles
By Emily Burleigh – CLICK HERE To read the article on the American Press Website
Riders for the Texas 4000 for the  Cancer Summer Bike Ride made a pit stop in Lake Charles on Friday before continuing on to Lafayette.
The Texas 4000 for Cancer Summer Bike Ride is making a return after three years. This charity bike ride spans over 4,500 miles, making it the longest annual charity bike ride worldwide.
The ride is twice as long as the Tour de France. Lake Charles is the sixth stop out of 60. The riders departed from Austin, Texas on June 3.
The organization's mission is to fight cancer by spreading hope, knowledge, and charity.
"I think it places a lot of importance on making sure people know they're not alone in the fight against cancer," said Vinay Shah, Texas 4000 volunteer. "One of the big things that it (cancer) can do to a family or person is making them feel isolated.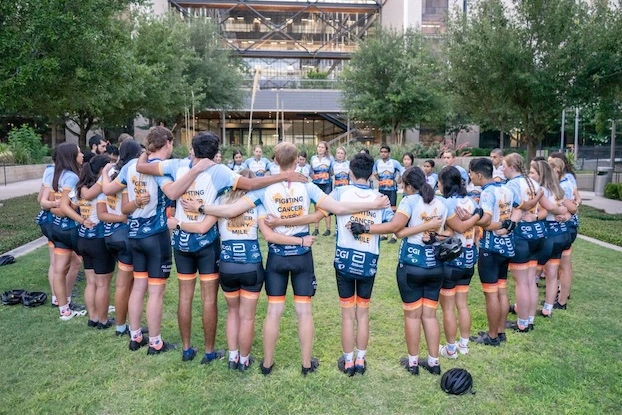 "One of the big things that we like to do is share our stories and personal ties, and learn others' stories as well."
The team of cyclists that rode through Lake Charles is taking the Ozarks route. According to Shah, this route is known for its small communities that are spread out through the South and Midwest. Finding connection and understanding in these small communities is special, and Lake Charles is no exception.
"We met a woman named Katrina Mouton at a gas station in Lake Charles. She's had a lot of people in her life affected by cancer," said Shah. "That's a big part as to why we do this, it's the people that we meet at gas stations or at restaurants, or just along the road."
"We get to learn their stories and how they were affected by cancer. Meeting her today was really good. It's always a unique experience to talk to people like her."
To promote their knowledge, team members give 30-minute presentations to communities that discuss early detection and cancer screenings, the importance of cancer prevention, and different risk factors so that people understand what activities can increase the likelihood of developing cancer.
"We place a lot of importance on different behaviors that people can add to their daily routine and lifestyle so that they can minimize that risk."
Educating communities about cancer and cancer care is important now more than ever. "With the significant drop in preventative cancer screenings seen since the start of the COVID-19 pandemic in 2020, Texas 4000 for Cancer is even more focused on spreading our cancer awareness and prevention message," stated Scott Crews, Texas 4000 Executive Director, in a press release.
"We believe spreading knowledge on cancer prevention will help increase preventative cancer screening numbers and save people's lives."
Many of the riders that make Texas 4000 possible have experienced the effects of cancer firsthand.
"While it's by no means that everyone in the organization has experienced cancer, many members of the organization have different ties to cancer," explained Shah. Shah himself was inspired to donate much of his time to Texas 4000 after seeing multiple people in his life battle cancer.
"I ride for all of those people, and also my teammates and everyone they ride for. I think I came into this organization with a short list of people in my life that I would like to ride for."
"Now that list has grown so immense because of my teammates and all of their ties to cancer."
Riders prepared for their expedition for almost two years. During this time, the volunteers attended an 18-month leadership development program, preparing their bodies, minds, and spirits for the journey.
Only three months of the 18-month program are dedicated to the charity bike ride.
During the first 15 months, volunteers participate in activities such as physical training, fundraising, and community volunteer work. This training emphasizes the last, but not least, pillar of Texas 4000's philosophy; Charity.
"We each have raised a minimum of $4,500, some raising upwards of $15,000," said Shah. "After all of our expenses are incurred, the leftover money that we have is upwards of $100,000."
Any fundraised money that is left over is donated to cancer researchers and institutions that are fighting to eliminate cancer.
Ozark cyclist Shah is a junior at UT-Austin. He is majoring in management information systems. He plans on staying on the pre-med track and one day opening his own sports medicine clinic.
A total of 96 are participating in the 4,000-mile journey from Austin, Texas to Anchorage, Alaska via two routes, the Sierra Route and the Ozarks Route. Each team consists of 24 riders.
The riders that passed through Lake Charles are taking the Ozarks Route. This path was added in 2013, making it the newest route. The riders will cycle to New Orleans, north through the Midwest and then northwest through Canada until they reach Anchorage, Alaska on Aug. 12. There, they will celebrate their journey by participating in the Anchorage Finish Line Festival.
The Sierra Route will be riding through the Southwestern deserts and up the West Coast.
Those who wish to donate to Texas 4000 have several options: Join the 4000 Circle, make a direct donation, donate to a specific rider, become a support team member, become a sponsor, shop with Amazon Smile, buy merchandise, or donate needed supplies.
Nearly $13 million has been raised through Texas 4000.
Those who wish to donate supplies from the Texas 4000 wish list can contact Laura Keudall, Operations Manager, at 737-300-2318 or laura@texas4000.org. Donations can also be sent to Texas 4000 For Cancer, 1111 W 24th St., Suite 200, Austin, Texas 78705.
To view the donation list or get more information, see www.texas4000.org.