The Texas 4000 2015 Riders Volunteering in Austin
The 2015 Texas 4000 riders have had a busy last few months volunteering around the Austin community. We have been at the LIVESTRONG Challenge on October 19th, the Dell Children's Hungry Brunch Halloween Party on October 24th, the Ironman 70.3 Austin on October 26th and Dirty Trails and Pony Tails 5K and 10K on November 8th. Take a minute to read what some of these riders had to say about these events.
Rider Logan DeBord on the LIVESTRONG Challenge:
"Some of the money that my teammates and I raise as Texas 4000 riders supports the LIVESTRONG Cancer Navigation Center and on October 19th, our riders had the opportunity to join forces with another brave group of cyclists participating in the LIVESTRONG Challenge. This annual event offers routes of 20, 45, 65, and 100 miles to teams that also raise money for the fight against cancer.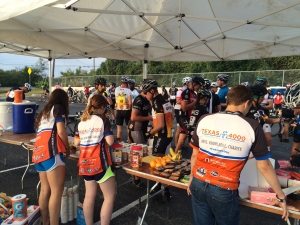 Nearly twenty Texas 4000 volunteers, including myself, were given the opportunity to set-up and run the second Power Stop. There were a lot of decisions to make, whether it's how far to set up the medical tents from the road or how to determine the elusive perfect ratio of Gatorade-to-water. It was a huge responsibility, but my teammates and I created a configuration of tents and tables designed for maximum efficiency of cyclists as they rode through the area.
As riders started passing us by my teammates erupted in cheers and applause, waving a yellow banner that proclaimed 'Thank you!' As the middle of the pack approached, more and more riders took the opportunity to relax at our lively stop. We treated them to cut fruit, gels, and even a little conversation if they felt up to it.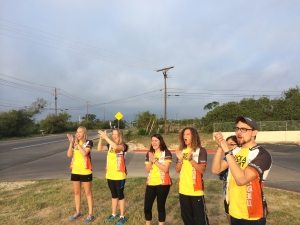 As the deluge of riders slowed to a trickle, one of the race coordinators signaled to us that we could pack up and leave. My teammates and I were encouraged knowing that there are others out there united in the fight against cancer. 2,000 of those individuals participated in the LIVESTRONG Challenge!!"
Rider Tess Ortega on the Dell Children's Hungry Bunch Halloween Party:
"For me writing has always been an excruciating process. This time, however, is different. This time I'm writing about my experience at the Dell Children's Hungry Bunch Halloween Party, a.k.a. my favorite Texas 4000 volunteer event to date. My teammates and I arrived at the venue at 5 pm to help the magician set up the games stations and prize table. There were four different games the kids could play. These games included two types of ball toss, a particularly difficult ring toss game, and a miniature bowling game all of which we were in charge of running during the party, including the prize table. The party was for teenage patients in middle school and high school and their families all of whom look spectacular in their costumes!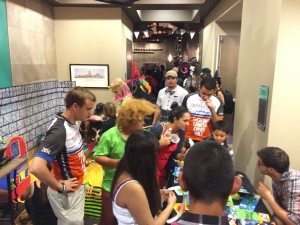 I started off running the ring toss game, but soon ended up at the ball toss located right across from the entrance to the dance floor. This turned out to be the most popular game of the night. The game was simple enough, you bounce a ball on a mini trampoline in an effort to get the ball into one of four nets each with a different point level. I had so many kids come back over and over again to play the game trying to beat their high score or just get more tickets. Regardless of the reason, having repeat players gave me a chance to talk to and get to know some of the kids. This was definitely my favorite part of the event!!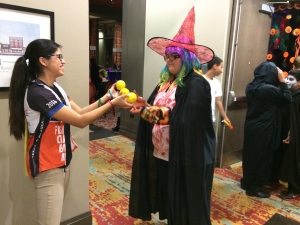 The hardest part about seeing these amazing kids so animated and full of life was knowing that they were also fighting some awful diseases. That was their reality, and this party was a much needed break from that reality and a chance enjoy childhood for a little while. This idea of escaping reality is what I loved about the Hungry Bunch Halloween Party and I was more than thrilled to contribute to their fun. In the end I, without a doubt, believe that I got as much out of this experience as the kids and I will certainly be riding for them all the way to Alaska!"
Rider Lexi Rogers on the Ironman 70.3 Austin:
"Admittedly, I've never been the biggest athlete and prior to this opportunity I wasn't entirely sure what a Half Ironman triathlon entailed. All I knew was that they were extremely difficult. After witnessing this Half Ironman, I still hold that sentiment, but now I know why. A Half Ironman consists of a 1.2-mile swim, a 56-mille bike ride, and an 13.1 mile run. Not only was I inspired by the determination of the participants but also by the staff who coordinated and organized the event.
We helped where we could as volunteers, from directing cyclists to their respective bikes racks to pointing out turns on the bike course. But before we ever arrived, an incredible amount of cooperation was needed to plan the transitions, distribute the race chips/bibs, ensure adequate parking and recruit labor to help set-up.
It was the sort of teamwork that will be vital to successful end our ride this summer.
One of my favorite parts of the triathlon was the finish line. The finish line was inside a huge arena where runners ended their journey surrounded by a crowd full of spectators and the elated cheers of those that supported them. I ended that particular day of volunteering hoping to continue my efforts in Texas 4000 with the same dedication and enthusiasm I saw at the Ironman 70.3 Austin."
Rider Tatiana Jessen on the Dirty Trails and Pony Tails 5K and 10K:
My teammates and I volunteered at the Dirty Trails and Pony Tails race on November 8, 2014. The Dirty Trails and Pony Tails race is a 5k and 10k running event for women.
While most college kids were snuggled in their warm beds, my teammates and I were eager to volunteer and give back to the community. The volunteers were divided into two groups. The first group was assigned to give directions to the runners on the trail and the second group was assigned to prepare the food and drinks for the event. I was apart of the second group and took part in setting up tables, brewing coffee, and cutting fruit for the runners.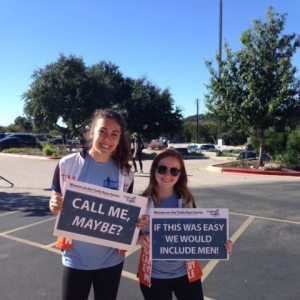 Once the runners were approaching the finish line, my group finished our work and went outside to cheer on the finishers. We jumped around enthusiastically, while holding goofy signs that read, "If this was easy, we would include men". Each runner passed us with a big smile on our face and graciously thanked us for helping out with the event.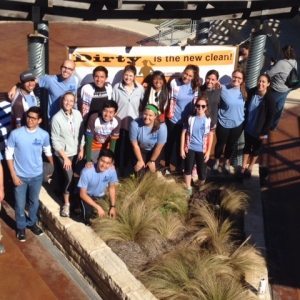 Overall, my teammate and I left the Dirty Trails and Pony Tails race fulfilled. We not only were able to give back to the community, but also were able to bond with our fellow teammates.