Support Texas 4000 Through Amplify Austin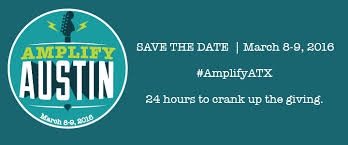 We are thrilled to be participating in Amplify Austin again in 2016, a city-wide day of giving that offers a fun, exciting, and incentivized way of giving to causes you care about, like Texas 4000! Help us continue our work of cultivating student leaders and engaging communities in the fight against cancer by showing your generosity on March 8-9 during the 24-hours of giving.
Schedule Your Gift
"Set-it and forget it" by scheduling your donation today. It will be processed on March 8-9 and will be part of Texas 4000's Amplify Austin efforts.
What is Amplify Austin?
Amplify Austin Day is a 24 hour initiative to increase giving back in Central Texas through online giving.
Why Amplify?
By giving to us on Amplify Austin Day, gifts are amplified through cash prizes and the stretch fund.
When is it?
Amplify Austin is from 6 PM on March 8th to 6 PM on March 9th. Help Texas 4000 by
scheduling your gift now
!