Loaner Bikes Needed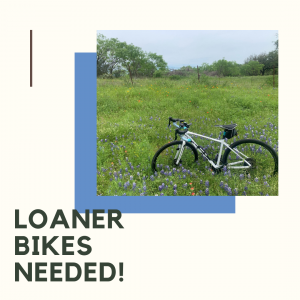 Hello from Texas 4000!
We hope you all are doing well and staying healthy and safe during these uncertain times. We are fortunate to have all of you being so supportive of Texas 4000 this year and helping the 2020 team to have a successful virtual ride and tribute! 
As we move into the fall semester and begin the year with a new team, we have been presented with our first challenge because of the continuing effects of COVID-19. The cycling industry has had their supply chain disrupted, as well as, a huge increase in the demand for bikes, both leading to delays in bike manufacturing. Due to this, we are looking at an arrival date in March for the team bikes that will roll in over that month and possibly the next month.
We are asking for help from everyone in the Texas4000 family who has access to a bike that they would be willing to loan to one of our 78 riders for training until the team bikes arrive. Information about the bikes the riders will be receiving in the spring is below. However, we are open to considering all bike makes and models to get the riders started. It would be great if any loaned bikes were available for the riders through April 2021.
2021 Bikes:
Bike:

Giant Contend AR3/Liv Avail AR3

Frame:

  Aluminum 

Fork:

Composite/carbon fiber

Handlebars:

Drop bars

Speed:

11 speed rear cassette 

Pedals/clips:

Mountain bike clips (Shimano PD-M520)

Brakes:

Disc

Brake actuation:

Cable actuated 

Tires:

Tubeless
If you or anyone you know has a bike that fits the above criteria and are willing to lend it to Texas 4000 for our riders to use, please fill out this form with your bike information. Texas 4000 will cover damages to any loaned bike. 
Click here to fill out the bike loan form.
Thank you in advance for your help in this process. Your support of Texas 4000 is greatly appreciated.
Best,
Texas 4000 Board, Staff, and 2021 Team