Fighting Cancer Every Mile
It's hard to believe that our Texas 4000 riders have been on the road for 45 of their 70 days! Can you imagine waking up at dawn, riding your bike for 70-110 miles, talking with strangers all day and night about cancer, staying in a new city, being away from family, spending virtually no money – for 45 days and counting??? There is nothing easy about this ride. But 79 dedicated students have sacrificed so much to share hope, knowledge and charity from Austin to Anchorage – and that's exactly what they're doing.

Hopefully you are keeping up with the riders on our new and improved website, but in case you haven't had the chance, we wanted to share a few highlights and recaps from start of the ride and from the road:
Day Zero


This year's Day Zero was held on the lawn in front of the LBJ Fountain on the UT campus, with over 200 family and friends in attendance. Under blue skies, Luci Baines Johnson and Senator Kirk Watson addressed the crowd before sending off the riders with a resounding rendition of "Eyes of Texas." Thank you to everyone who took the time to join us for the first step of the riders' journey to Alaska!

ATLAS Kick-Off


Our wonderful new partner, BHI, held the kick-off at their home office in Austin for the 200+ riders, family, and friends. We had a blast listening to some local music, sharing delicious pasta, and hearing more about why everyone rides. We're already looking forward to next year!

ATLAS – Day 1 – All Routes


We set out to break records with this year's ATLAS Ride and we are proud to say that it was the largest single-day event in the history of Texas 4000. With a total of more than 1,100 people (800 of which were cyclists) at the finish line, we had a big party at Pillar Bluff Vineyards. This amazing turnout went a step further when it came to fundraising – we were able to raise 50% more than last year in support of our mission. We absolutely could not have done it without all of our supporters – thank you for making it possible. We also had a wonderful group of finish-line vendors, sponsors, alumni, volunteers, and two great bands that really made the event an all-around success. Be sure to mark your calendars for next year's celebration – May 30th, 2015!

Dallas – Day 3 – Rockies Route


Rockies presented a $30,000 check to UT Southwestern in support of important cancer research and 2009 Alumni hosted a happy hour fundraiser at Tate's for the team where they enjoyed interacting with the Dallas community.

Houston – Day 4 – Ozarks Route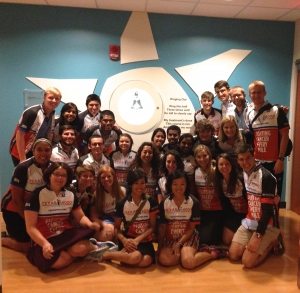 Ozarks visited MD Anderson Cancer Center in Houston for a special reception at the Texas 4000 Garden and to present a check for $135,000 for critical research projects. Riders also had a pizza party with kids in treatment at MDA's Children's Cancer Hospital and spreading some cheer through the infusion room at Texas Children's Hospital.

Denver – Day 16 – Rockies Route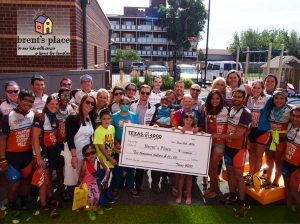 Rockies route enjoyed a get together in Greenwood Village where June 15th was declared the 'Texas 4000 For Cancer Day' by Mayor Ron Rakowsky. They also visited Brent's Place to present a check and University of Colorado Cancer Center for a visit before hitting the road to Boulder. Brent's Place is a non-profit dedicated to providing a safe and clean environment for children fighting cancer and their families. Visiting the children and families who call Brent's Place home was a powerful and moving experience for our Rockies riders, and they will be riding for them all the way to Alaska.

St. Louis – Day 20 – Ozarks Route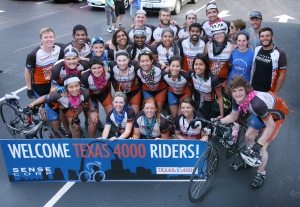 For the 2nd year in a row, SenseCorp, our founding sponsor, welcomed Ozarks to St. Louis with open arms for a happy hour, tours of local hospitals, a fabulous fundraising event, plenty of great food, and a group ride to the infamous Arch.

Chicago – Day 24 – Ozarks Route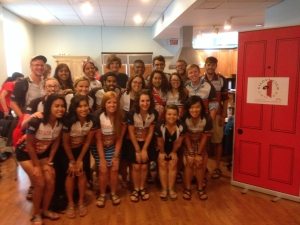 Ozarks riders completed a 130-mile ride from Champaign to Chicago! While in town, they visited Imerman Angels, a non-profit that provides one-on-one support for individuals battling cancer. They also stopped in at Gilda's Club, a nonprofit support network for family and friends with cancer, where they spent time with participants of their teen camp. The team later enjoyed a happy hour set up by Texas 4000 Alumni.

Bay Area – Day 24 – Sierra Route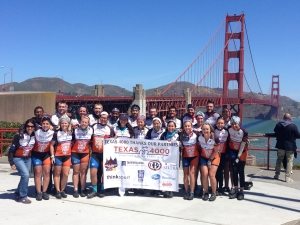 After a morning of exploring San Francisco, Sierra put on an exceptional program for 100+ guests at an annual event held by generous supporters. Ride dedications took place the next morning at the foot of the Golden Gate Bridge before riders took off for Sonoma.

Sioux Narrows, Ontario – Day 36 – Ozarks reaches Canada!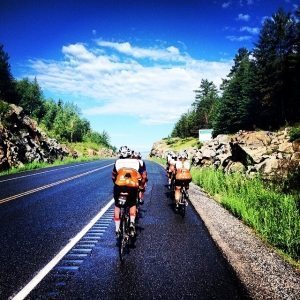 Claresholm, Alberta – Day 38 – Rockies reaches Canada!

Portland – Day 39 – Sierra Route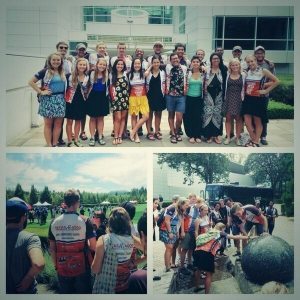 Sierra was welcomed into Portland with a fun and festive potluck reception hosted by the local Texas Exes chapter. On their rest day, they shared our mission and cancer prevention facts with SkyChef, one of our generous food sponsors. Afterwards, the team toured the Nike headquarters and enjoyed seeing the sights in Portland.

Vancouver, British Columbia – Day 44 – Sierra reaches Canada!

As of tomorrow, they only 25 more days until the finish line in Anchorage!

Don't forget that you can welcome the riders home at our Tribute Gala on August 23rd at Austin Music Hall. Tickets are available now for $175 each. We hope you can join us to celebrate the exceptional 2014 Texas 4000 Team.


One last thing – the 2014 Team has raised $587,000 to date! They are so close to reaching their goal of $600,000. We encourage you to make a donation of any amount in support of their efforts.