The Colony resident to take part in Texas 4000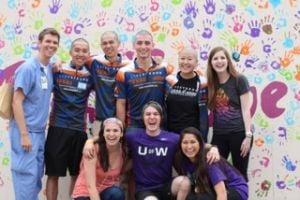 One area resident has chosen to honor the memory of her father by embarking on a bicycle ride that will take her from Austin to Anchorage, Alaska.
Ria Cho, a 2013 graduate from The Colony High School and current student at The University of Texas at Austin, is working toward being a team member of the 2015 Texas 4000. The group makes the 4,500-mile ride as part of its mission to raise money for cancer research. Team members are required to raise at least $4,500.
"Throughout high school I was required to do community service, but this is something I'm really passionate about," Cho said. "I want to inspire people."
Riders must meet multiple deadlines throughout the year leading up to the ride. By the fall, Cho must raise at least $1,500 to receive her race-issued bicycle. She said she began fundraising in February with a letter-writing campaign to anyone who she thinks will donate toward her goal. In the future, she said there would be a team Facebook page, and she will begin distributing email newsletters.
"The fundraising responsibility is mostly on us, but the organization gives a lot of resources and tips on how to fundraise," Cho said. "The team has about 98 people, but throughout the year that number might change."
Cho said ideally, she would like to raise at least $8,000.
Throughout the ride, team members will make stops to rest and discuss its mission with organizations across the country in an effort to raise awareness and funding.
Cho is a novice cyclist – she just learned how to ride a bicycle in the winter, but she is riding for a personal reason.
"This past summer my father passed away from gastric cancer, and my aunt is battling against lymphoma," Cho said. "I wanted to give back to the cancer community, and I want to make sure no one else has to go through what I did."
Cho said her father was diagnosed in July 2012 and died June 2013. She said his cancer was in the advanced stages by the time he was diagnosed, but her aunt's was caught much earlier.
In order to prepare for the 70-day ride, Cho will begin training this summer.
"We were advised to start getting in shape this summer," Cho said. "Once we get our bikes in the fall we'll start training, but before that the team will have Saturday workouts."
Cho's journey with the Texas 4000 began almost a year ago when she first heard about the organization.
"I first learned about it through people on campus, and I was interested," Cho said.
In order to be selected for the team, members must complete a lengthy application that address potential riders' fitness regime and public speaking skills. Cho said it took her two weeks to complete the application.
"After sending in my application, I was interviewed by alumni and the program director," Cho said. "I was selected for the team in the fall 2013. So far, we've had meetings with alumni and learned what's expected of us and how to fundraise."
Riders must also complete safety courses and learn how to ride as a group. Team members may ride through one of three routes, the "Rockies," which runs through Oklahoma, Kansas, Colorado, Wyoming, Montana and into Canada; the "Sierra," which runs through New Mexico, Arizona, Utah, California, Oregon, Washington and into Canada or the "Ozarks," which runs through Arkansas, Missouri, Illinois, Wisconsin, Minnesota, North Dakota and into Canada.
"We don't get to decide which route we'll take yet, but I want the 'Rockies' route to visit family," Cho said.
Each day riders will travel between 60 to 100 miles.
"At first it was really intimidating, but I've just been taking things one day at a time," Cho said.
"My family has been really supportive. I really want to do this to honor my dad. I feel like I didn't take advantage of the time I had with him. I'll also get to meet so many people across the United States and Canada and remind them that there's always hope."
For information visit http://2015texas4000.wix.com/riacho.
By Heather M. Goodwin
http://starlocalmedia.com/lewisvilleleader/news/the-colony-resident-to-take-part-in-texas/article_e4f5bfa6-e5b7-11e3-8bce-001a4bcf887a.html