College students embark on a 4,000-mile journey to deliver hope across the country
By Britni R. McAshan | June 6, 2019
Link to Article: https://www.tmc.edu/news/2019/06/college-students-embark-on-a-4000-mile-journey-to-deliver-hope-across-the-country
Mere days into their roughly 70-day, 4,000-mile journey to Alaska, dozens of civically-minded University of Texas at Austin students participating in the Texas 4000 ride made a quick stop in Houston to present checks to Texas Children's Hospital and the University of Texas MD Anderson Children's Cancer Center Hospital to support cancer-related programs and research at each of the institutions.
Marlon Bailey, a 2019 Texas 4000 rider and graduate student at the University of Texas at Austin studying to get a Ph.D. in counseling psychology, is riding with the Ozark route this summer to give back to the community.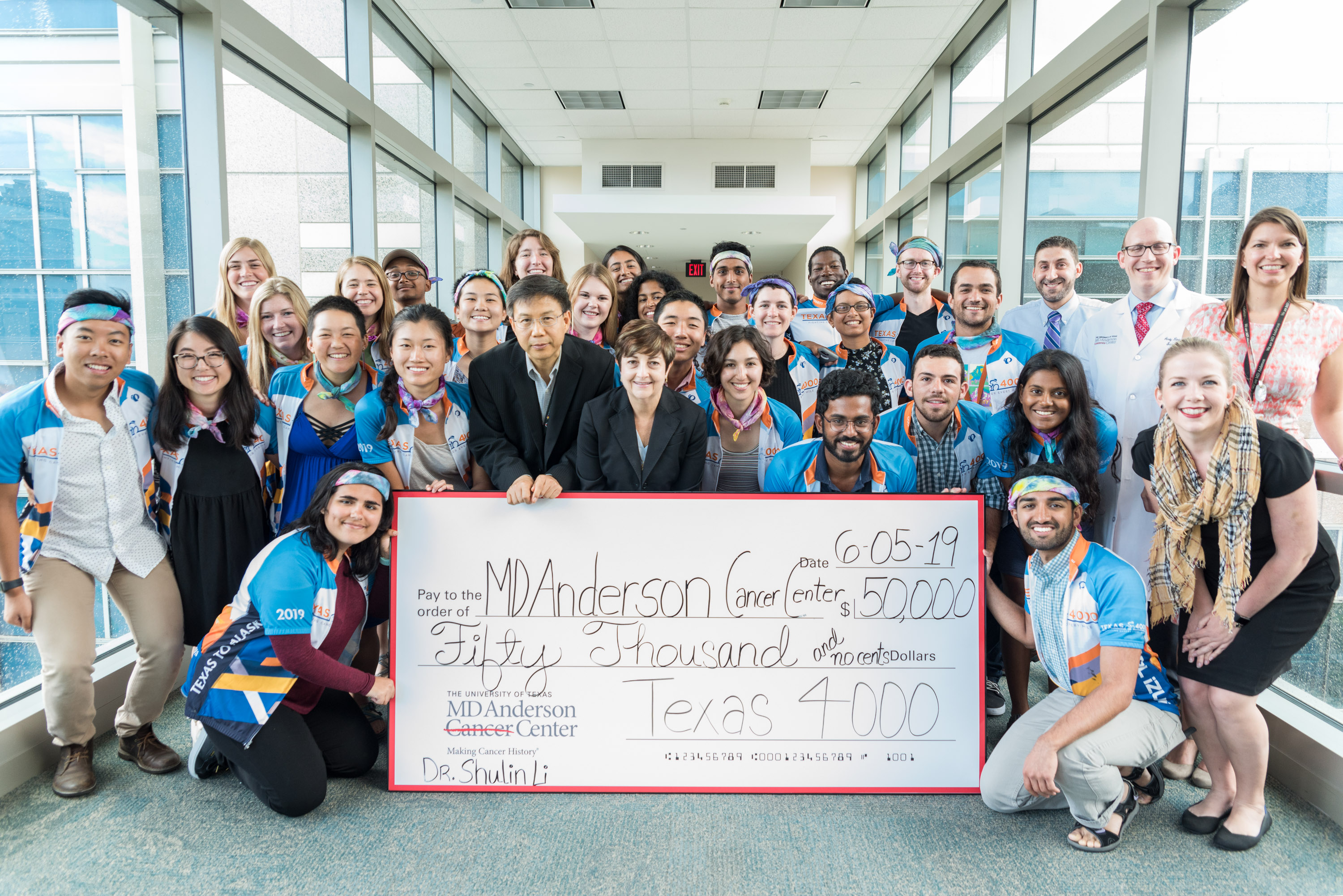 "Anytime you can do something good, you should," Bailey said. "This was an opportunity to do something really big and really good. We all have people in our lives who have been affected by cancer so to be able to do something about it is a worthwhile opportunity."
Before embarking on the majority of their journey, the Ozark riders stopped in Houston June 5 to deliver a $50,000 check support work being done by Shulin Li, Ph.D., professor of pediatrics research at MD Anderson, involving circulating tumor cells. 
"Only people who have cancer carry tumor cells in their blood, some tumors shed off into the blood and that is how tumor metastasis occurs. We have developed the technology to capture tumor cells from the blood to validate whether a patient truly has a tumor cell," Li said. "I am very grateful to the Texas 4000 riders and the donations they have made to my lab. Their donations are going to generate a tremendous impact down the road to improve our patients lives."
The students also presented a $25,000 check to the Texas Children's Cancer and Hematology Centers to support weekend-long bereavement retreats for Spanish-speaking families.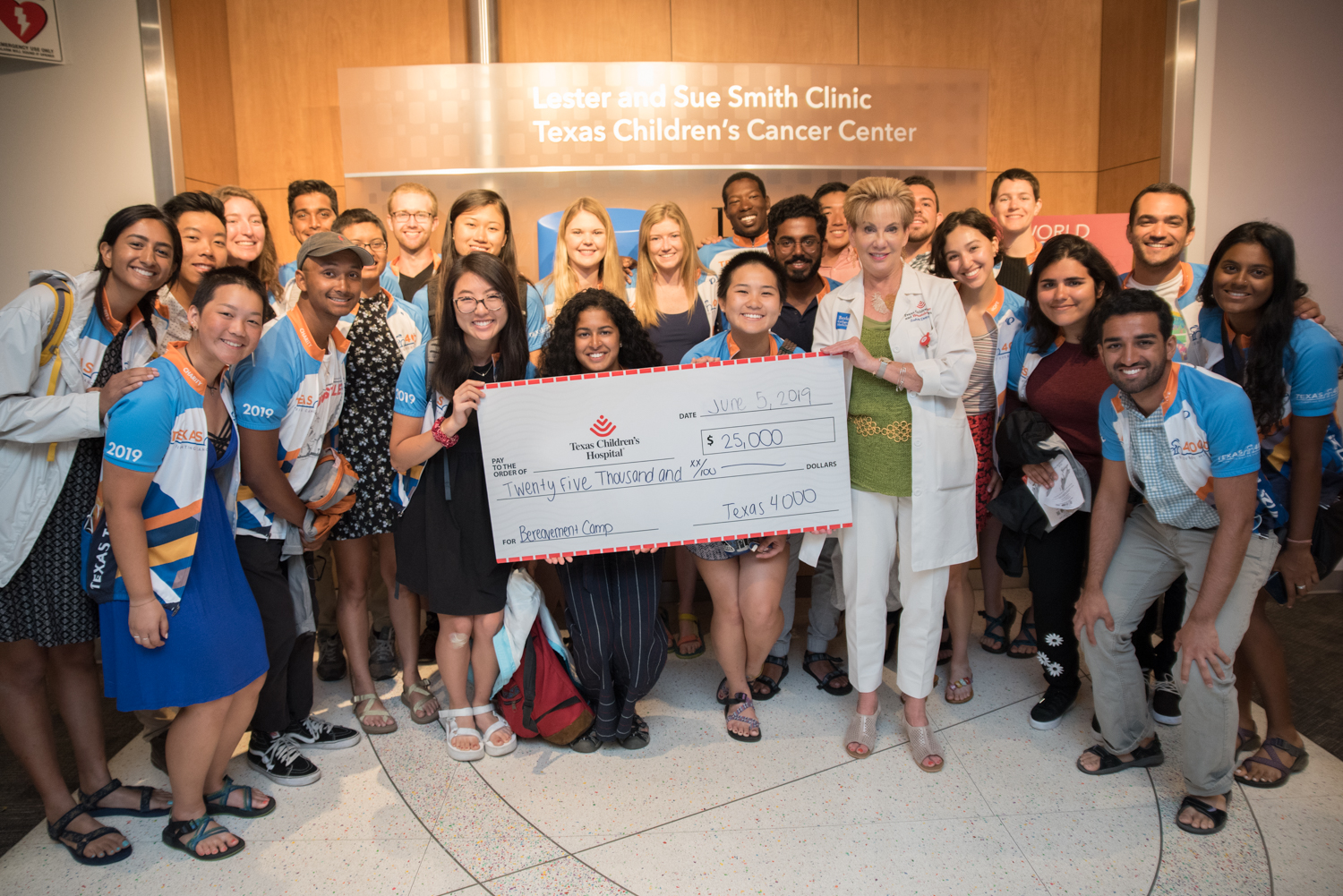 "Our bereavement camps are for families who have lost a child to cancer and they really give these families a chance to heal," said ZoAnn Dreyer, M.D., co-director of the Long Term Survivor program at Texas Children's Cancer and Hematology Centers. "We have specialists who come in, other families who have experienced a loss and in the past, and we have had English-speaking camps, but because such a large portion of our population are purely Spanish speaking, this is such a huge gift for us to be able to give our Spanish speaking families."
Because of the generous donation from the Texas 4000 riders, child-life specialists at Texas Children's were able to purchase equipment that facilitates translation at the bereavement camps.
The local institutions are two of 13 organizations across the United States and one in Canada to receive grant money at stops along the longest annual charity bike ride in the world.
Texas 4000 was started in 2004 by two University of Texas at Austin students—Chris Condit, a Hodgkin's Lymphoma survivor and Mandy Condit to fight cancer by raising funds to donate to cancer research organizations. Each year, a new group of students from the University of Texas volunteer and are selected to not only ride the 4,000 miles, but also participate in an immersive community-based program.
Over the course of the 18-month program, riders begin individually raising a minimum of $4,500, ride 2,000 training miles, volunteer more than 50 hours in the community and play an active role in planning the ride to Alaska by attending weekly meetings and taking leadership positions within the team.
During the Texas 4000 journey, the riders split up into three groups to make their way to Anchorage by way of the Sierras, the Rockies and the Ozarks.
Bailey and his team are on the Ozarks route and will begin their journey in East Texas moving through Arkansas, Missouri, Illinois, Wisconsin and Minnesota, before crossing the international border into Canada, traveling through Ontario, Manitoba, Saskatchewan, Alberta, British Columbia and the Yukon.
"We go the opposite way first so it seems counter-intuitive at first, but it is actually the part of the country that is most affected by cancer so to have the opportunity to bring hope (to) there is worthwhile," Bailey said.
The Sierra route takes riders through West Texas, New Mexico, Arizona, Utah and Nevada, then heads north up the California, Oregon and Washington coasts and into British Columbia and the Yukon before finally reaching Alaska. The riders on the Rockies route travel through North Texas, Oklahoma, Colorado, Utah, Wyoming and Montana. The route then heads into the Canadian provinces and territories of Alberta, British Columbia and the Yukon before making its way into Alaska.
The 4,000-mile journey takes about 70 days for the riders on each route to complete, during which time they are responsible for providing their own food, shelter and support. Along each route, riders stop in cities to share their reasons for riding, provide messages of prevention and early detection and deliver checks to cancer research institutions.
"This seems almost small—dedicating my summer, but it is so small in the grand scheme of the fight against cancer," Bailey said. "In the fight against cancer, people are dedicating their lives to curing cancer so this is the least I could do."