2015 Texas 4000 Weekend Training Camp
by Katherine Freeman
The 88 members of the 2015 Texas 4000 for Cancer team recently attended this year's training camp weekend. We packed up our bikes, sleeping bags, warm layers, and rain jackets and headed for Fayetteville, Texas. The weather forecast for the weekend was intimidating for new riders like myself. My ideal day to learn how to ride a bike would not be 40 degrees and raining. I was scared! Despite the weather, I was extremely excited to see what the weekend would hold. It would be our first night together as a team, our first time biking two days in a row, our first time riding in the rain, and our first glimpse at what the 70 days of our summer ride would be like.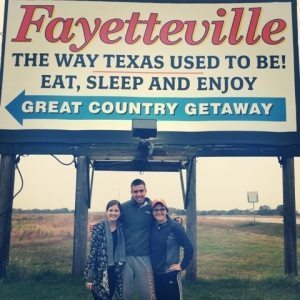 As we arrived in Fayetteville, the energy was electric! Once everyone arrived and settled in, the coaches introduced themselves and explained how this weekend would go. We were split up into two main groups: the more experienced riders, and the riders who needed a little more assistance. In each of those groups, we were further split up into 6 ride groups. I was placed in group 6A with Alice as our coach and fearless leader. While the more experienced riders headed out for the first ride of the weekend, my group got ready to do our skills clinic. In the course of two hours, we did an obstacle course, practiced our emergency stopping and did a proximity drill where we learned about riding in pace lines. It was cold and a little wet, but so much fun! We cheered for our teammates as they skillfully swerved to dodge tennis balls and managed to perform an emergency stop without lifting their butt up from the seat. For all of us newer riders, it became increasingly clear that we had a lot left to learn. Fortunately, the coaches were encouraging, patient and offered a lot of helpful advice so we could become more comfortable on our bikes. While learning more about riding, we also learned more about each other as well as more about ourselves.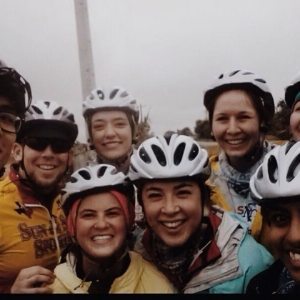 After lunch, my group and I got ready to embark on a 25 mile ride through the beautiful, and slightly hilly, roads of Fayetteville. It was a pretty tough ride for me. I was slower than everyone else in the group and really struggled to keep up. With every additional hill, my group pulled further and further away and I felt myself becoming very discouraged. I really thought that through sheer willpower I would be able to make myself good at riding a bike, but that was clearly not the case. Vanessa and Dani, two of the 2014 alumni, helped me through the ride. Vanessa stayed with me as I fell behind the rest of the group and talked to me through every hill and encouraged me to keep going. As we finished the ride, I was disappointed with myself for slowing the team down, but overwhelmed by the love and support from my teammates.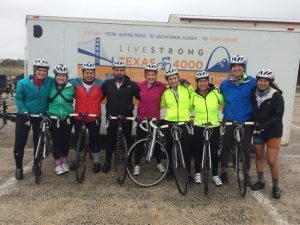 As we returned to the school, we changed out of our cycling clothes into something warmer. People covered the cafeteria stretching, snacking, sleeping, and everything in between. We ate a delicious dinner provided by a generous local restaurant and settled in for a long Q&A session with our knowledgeable coaches. After tons of questions about posture, mechanics, chamois butter, and gear, everyone went to bed feeling much more educated and prepared to be a serious cyclist.
The next morning we packed our bags, ate breakfast, had an impromptu dance session, and headed out for a three hour ride. While that ride started off with quite a bit of discomfort, it went much better than the previous day. I am not sure if the rest of the group was going slower or if I was going faster, but I was no longer struggling to keep up with the group. We rode a beautiful 13 miles out with one short water break. Around mile 13, we had to stop because our alumna Vanessa had a flat about a mile behind us. While we waited for them to return, we decided to do a ride dedication circle, the first one of the weekend. My teammates Rachel, Rose, Jonathan, Abby, Meredith, Mac and I rode for those that have supported us: parents, significant others, best friends, cousins and each other. We all ride because we have been touched by cancer in some way and felt called to join the fight for a cure. But we don't just ride for ourselves and our loved ones, we ride for each of our teammate's fights. Their fight becomes ours, and vice versa.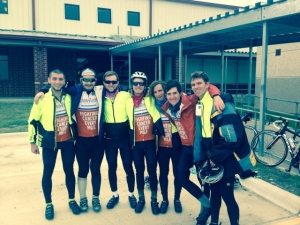 On our way back, it became incredibly difficult for me to pedal and no matter how hard I tried, I couldn't make my bike go any faster. What was that strange noise I was hearing? A flat tire… Although I knew this moment was inevitable, I dreaded it. However, I was glad I now knew what a flat tire felt like and would be able to recognize it the next time. About 5 miles later when I got my second flat tire of the ride. This time I changed the tire by myself and used the training I learned from Vanessa to fix it. With my second flat changed, we were back on the road and on our way back to the school. Although I was frustrated with getting two flats, I was thankful for my team's patience, encouragement and appreciative of the wisdom and assistance of our alumni.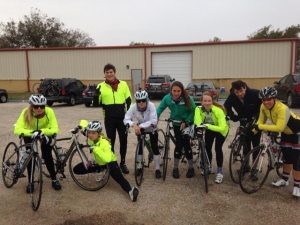 Training camp has been the highlight of my Texas 4000 experience so far. It was an incredible experience to learn from experts, bond with my teammates, push myself to the limit, try new things, and have fun. If this is any indication of what the summer ride will be like, then I am more excited than I thought possible to head to Alaska. I am amazed by the generosity of the coaches, alumni, staff, school district and local restaurant. None of it would have been possible without their support. I am so honored to be a member of the 2015 Texas 4000 for Cancer team and I wouldn't want to fight cancer with anyone else.