Texas to Anchorage Cycle for Cancer: Texas 4000 Ride for Cancer Stops in Fraser Lake
Photo Dave Christie
The Texas 4000 Ride for Cancer arrived in Fraser Lake Saturday July 29. Fraser Lake Fire Rescue escorted the 16 riders into Fraser Lake on their ride day 50 of 70 from Austin, Texas to Anchorage Alaska.
They spent the night in Fraser Lake, and Sunday morning the Fraser Lake Legion cooked the riders a hot breakfast then they departed Sunday morning to continue their journey to Anchorage Alaska. All riders were from the University of Texas.
Fraser Lake Fire Rescue was invited to their morning ride dedication ceremony and was proud to escort these young dedicated riders on their way.
Texas 4000 for Cancer or Texas 4000 is a US non-profit organization, and one of the longest annual charity bicycle rides in the world. Each year a new group of 60 to 100 students from University of Texas make a 70-day, 7,543 km bike trek from the Texas campus in Austin, Texas to Anchorage.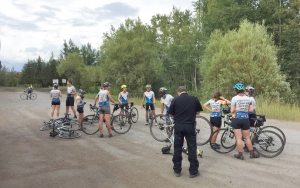 Photo Dave Christie
Image Texas4000.org
Written by: Fiona Maureen
Please view original article here