Ride Your Own ATLAS 2022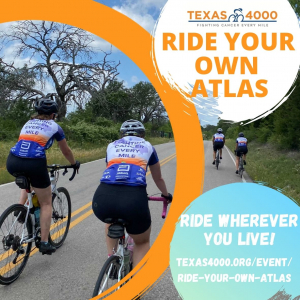 Cancer doesn't stop at the city limits!

Unable to join us at ATLAS Ride this year? You can Ride Your Own ATLAS no matter where you are and join the fight against cancer along with the inspiring 2022 Team!
Gather safely with your friends and raise a minimum of $100 as a Support Team member to get cool T4K swag. You can ride, walk, hike, row or complete any activity you want on June 4! Tag your city and your activity on social media and Strava with #ridewithT4K. There are two ways to register:
For $25, we will mail you an official ATLAS T-shirt and bib, plus you are eligible for the incentives below
Don't need a T-shirt? At no cost, simply start your Ride Your Own ATLAS fundraising page by clicking the button. You are still eligible for all fundraising incentives
START YOUR RIDE YOUR OWN ATLAS FUNDRAISING PAGE
Funds raised by participants in Ride Your Own ATLAS and the ATLAS Ride go to support Texas 4000's cancer fighting mission, leadership development program, and helps to ensure that more of the funds raised by the Texas 4000 team can go to grants to cancer research and support service organizations.
Fundraising Incentives