Austin Finish Line Festival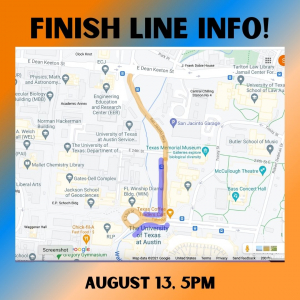 Join us to welcome back the 2021 Team to Austin! The finish line will be at 23rd and San Jacinto in Winship Circle near the Alumni Center on the UT campus. We anticipate the team rolling through at 5pm. The route is highlighted in orange and good viewing opportunities are highlighted in blue. We will have a short program following the finish and lots of photo opportunities!
A few items to remember.
– Please take precautions and wear a mask!
– Absolutely no alcohol is allowed on the UT campus, UTPD will be present
– Please allow the team this one last ride together and do not try to meet up with them before they cross the finish line
– If you are unvaccinated, we do not recommend that you attend the event
– The best parking is in the San Jacinto garage, right down the street from the finish line
Timeline of events
– 5:00pm – Team rolls across the finish line!
– 5-6:00pm – Pictures and media opportunities
– 6:00pm = Short program with testimonials from the team