Adopt-A-Bike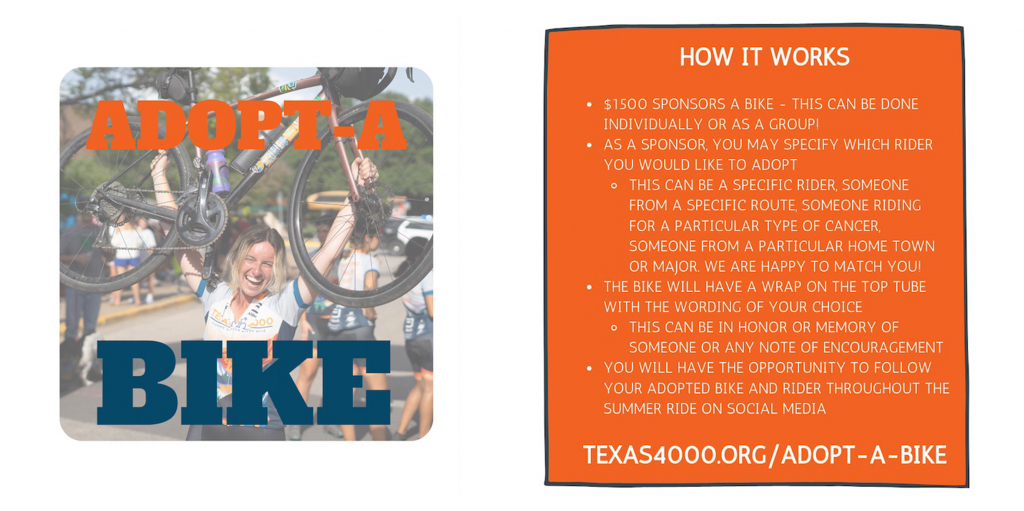 Adopt a bike for the 2023 Team! The bike that carries a Texas 4000 team member from Austin to Anchorage is a tangible symbol of the rider's commitment to the fight against cancer since our founding. The bike is gifted to the team member once the ride is completed. Some go on to cycle thousands more miles on it and others hang it on the wall as a reminder of what they have accomplished on the ride and in the fight against cancer.
During the pandemic, cycling gained in popularity and combined with disrupted supply chains, it has made obtaining bikes difficult and much more expensive.
Bike are Texas 4000's single largest program expense, and this year we anticipate that expense to be 40% higher than in the past.
$34,880.00 was raised by adopting the 2022 team's bikes. Our goal is to raise $81,000 through adopting the 2023 team's bikes.
2022 Adopt-A-Bike Donors
2011 Rockies Route
2012 Team
2014 Team
2017 Team
Austin Subaru
Amanda Myers
Avi Lowenstein
Barney Sinclair
Chris McCraw
Craig Baldwin
Dr. Eardie Curry
Dr. Jeff Dykes
Eric Mowery
Gary Mowery
Georgia Jolink
Jerry Snyder
Jessica Brubaker
Kate Simpson
Kerry Rupp
Mary Dirting
Lloyd Brubaker
Robbie Ketch
Sophie Winkleman
Lynn Porath
Louis Armendariz
Javier Romero
Brett Wiersum
Agustin Fierros
Fee Aquique
Kylee Olson